Acting Deputy Assistant Secretary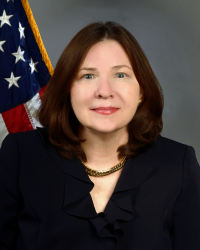 Carolyn Roddy is a Senior Advisor to the NTIA Administrator and is currently serving as Acting Deputy Assistant Secretary.  She has extensive experience as a telecommunications attorney, including work representing a wide range of clients in private law practice, at the Federal Communications Commission Wireline Competition, Wireless, Enforcement and Office of Legislative Affairs, as counsel at Sprint Communications, and as Director of Regulatory Affairs at the Satellite Industry Association. She most recently served as Senior Rural Broadband Advisor at the US Department of Agriculture Rural Utilities Service where she represented the department on the American Broadband Initiative and in establishing the FCC Precision Agriculture Task Force.    
 A graduate of the University of Georgia Journalism and Law Schools, she lives in Marietta, Georgia and Alexandria, Virginia.  She has served on the Boards of Directors of the Georgia Technology Authority and Georgia Department of Drivers Services and is currently a member of the University of Georgia Board of Visitors.