Senior Spectrum Advisor, Office of the Assistant Secretary, NTIA
Image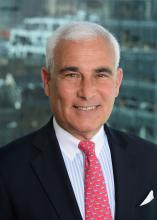 Scott Blake Harris is the Senior Spectrum Advisor at NTIA. He represents the agency in its efforts to expand the use of spectrum to support the needs of federal agencies, consumers, and the commercial sector.
Scott has practiced law in Washington D.C. for forty-six years, and has extensive communications, energy, litigation, and national security law experience.  He previously served in government as the General Counsel of the Department of Energy, as the first Chief of the International Bureau at the Federal Communications Commission, and as Chief Counsel for Export Administration at the Department of Commerce. While at DOE he also served as Co-Chair of the Broadband Subcommittee of the White House National Science and Technology Council.
In the private sector, Scott co-founded the law firm of Harris, Wiltshire & Grannis LLP (now HWG) and served as its first Managing Partner and its first Chairman. Scott also served as General Counsel of Neustar, Inc. and as Co-Managing Partner of Wilkinson Barker Knauer LLP.  Earlier in his career, he was a partner at Gibson Dunn & Crutcher, where he was Chair of the communications practice, and at Williams & Connolly, where began his career in private practice as a litigator. He served as a law clerk to the Hon. Gerhard A. Gesell upon graduation from law school.