Principal Deputy Assistant Secretary and Deputy Administrator (Acting)
Image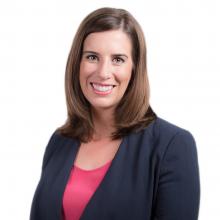 Sarah Morris serves as Principal Deputy Assistant Secretary and Deputy Administrator (Acting). Sarah is a lawyer, non-profit executive, and recognized communications policy expert. She joined NTIA in March 2022 as the agency's senior advisor for broadband.
Prior to NTIA, Sarah was the executive director of New America's Open Technology Institute, where she led the organization's strategic planning, fundraising, and management. Before that role, she directed the organization's efforts on a broad portfolio of issues including broadband access and adoption, digital privacy, online consumer protections, and preserving the open Internet. Her work on these issues has been widely quoted in national publications and she has appeared as an expert on radio and television outlets. 
Previously, Sarah was a fellow with the public interest law firm Media Access Project. She is also a legal adjunct professor and has taught multiple courses at George Washington Law School and Georgetown Law Center.
Sarah earned a B.A. from the University of Nebraska-Lincoln, and a J.D. and LL.M. in space, cyber, and telecommunications law from Nebraska Law, completing her thesis on privacy and security concerns related to the electric smart grid.