When she announced the Commerce Department's Digital Economy Agenda a year ago, Commerce Secretary Penny Pritzker emphasized that broadband Internet access and digital skills are critical to the economy's success.  The digital marketplace has created millions of new jobs in the United States. Digitally connected Americans are the modern workers, creative innovators, and new customers who will help sustain our nation's global competitiveness. 
But what about those Americans who do not use the Internet? Whether by circumstance or by choice, millions of U.S. households are not online, and thus unable to meaningfully participate in the digital economy. Data from NTIA's July 2015 Computer and Internet Use Supplement to the Current Population Survey confirm that the digital divide persists. In 2015, 33 million households (27 percent of all U.S. households) did not use the Internet at home, where families can more easily share Internet access and conduct sensitive online transactions privately.  Significantly, 26 million households—one-fifth of all households—were offline entirely, lacking a single member who used the Internet from any location in 2015.
Reasons for No Internet Use at Home
As we previously reported, non-Asian minorities and people with disabilities were among those groups most likely not to use the Internet at home, as were those with lower incomes and lower levels of educational attainment.  The reasons these and other offline households gave in 2015 reflect a consistent pattern since 2001, which is when NTIA first asked why people did not use the Internet at home.  Results from the latest survey show the top reason that households gave for not using the Internet at home in 2015 was that they did not need it or had no interest in going online (55 percent). This was the number one reason given in 2013 as well. A quarter cited the expense of Internet service, while 7 percent said they lacked a working computer.  Since 2001, these reasons have remained the primary ones that households without Internet users have given to explain why they don't use the Internet at home.
From 2013 to 2015 (Figure 1), the percentage of households not online at home and expressing a lack of interest or need for home Internet access jumped by 8 percentage points from 47 percent to 55 percent. Simultaneously, the percentage of offline households that did not use the Internet at home because of cost concerns or the lack of a serviceable computer decreased by 4 and 6 percentage points, respectively. These trends were consistent regardless of demographics, rural or urban residence, or the presence of school-aged children at home, although the extent of the changes varied by category. 
Figure 1: Selected Main Reasons for Not Using the Internet at Home
 Percent of Households Not Online at Home, 2001–2015
Image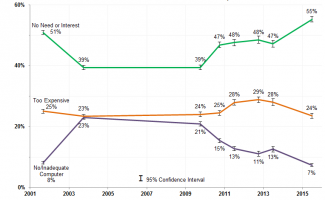 The growing frequency of those who cited a lack of interest or need for home Internet service, even among higher educated, higher income, and White households that traditionally have exhibited the greatest home Internet use, bears further study.  
NTIA's 2015 survey delved deeper into some of the reasons behind the two most frequently cited reasons for not using the Internet at home. As a result, interviewers separated the previously combined "don't need" and "not interested" answers and refined the "too expensive" response into "can't afford" and "not worth the cost" categories based on replies from those who were interviewed.  
The 2015 data shows that of the 55 percent of households that didn't use the Internet at home because of a lack of interest in or need for the service, 60 percent said they didn't need the service, while the remaining 40 percent stated they had no interest in it. These more detailed reasons for not using the Internet at home may facilitate development of policies and programs that address the specific concerns of these non-using households.  For example, households that stated a lack of interest in the service may require a different approach that focuses on ways the Internet can benefit them than households that stated they did not need home Internet access.    
Further, of the 24 percent of households that said they didn't use the Internet at home because of cost concerns, an overwhelming 92 percent explained they could not afford it, compared to a mere 8 percent that responded the service was not worth the cost. This suggests that cost is still a barrier for a meaningful percentage of non-adopting households.
These more granular reasons for why some households don't use the Internet at home also shed light on the differences between households with members who formerly used the Internet at home and those who had never previously done so. Households with prior home Internet use appeared to be more price sensitive than households without any previous home Internet use. Thirty-one percent of non-adopting households that once had home Internet responded that they could not afford the service, while only 20 percent of never-adopting households gave the same main reason for non-use. As illustrated in Figure 2, the data also suggest that households with prior home Internet connections appreciated the technology's utility. They were far less likely to state they did not need it (21 percent) or were not interested in it (13 percent) compared to households that had never used the Internet at home (36 percent and 24 percent, respectively).
Given the potential concern of under-reporting in households for whom Internet access is cost-prohibitive, a new 2015 survey question for households without home Internet access asked whether they would buy the service if it was offered at a lower price. This first-time inquiry reveals that 23 percent of all households that did not use the Internet at home in 2015 would purchase the service if it was less expensive. Significantly, half of households that had stopped using the Internet at home reported a willingness to subscribe to lower-priced service if available, while only 17 percent of households that never had home Internet gave the same answer.
Eliminating or reducing cost concerns may offer an opportunity to narrow the digital divide by recapturing households that formerly used the Internet at home.  Overcoming the perception that home Internet access lacks relevance in households that have never used it could, however, prove to be a more difficult challenge.
Figure 2: Primary Reasons for Non-Internet Use at Home by Prior Home Internet Use
Percent of Households Not Online at Home, 2015
Image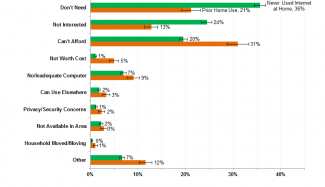 Connecting the Digitally Unconnected
Recognizing the importance of broadband access to America's prosperity and the well-being of its people, in March 2016, the Obama Administration established a national goal of connecting 20 million more Americans to broadband by 2020. To meet this goal, the Administration is urging government, businesses, and non-profits to support its ConnectALL initiative, which focuses on helping the traditionally vulnerable populations that NTIA data show remain disproportionately represented among the digitally unconnected.  NTIA is supporting this goal through its BroadbandUSA program, which provides technical assistance to communities that want to expand their broadband capacity and promote broadband adoption. As new and ongoing efforts to close the digital divide seek to attract additional resources to this important work, NTIA will continue gathering and analyzing data to inform policies to help unconnected Americans bridge the digital divide. 
Want to learn more about the state of Internet use in America? Sign up for the Data Central mailing list to hear about future NTIA research.