This blog was cross-posted on BEA's website.
The digital economy accounted for 6.9 percent of the U.S. gross domestic product, or $1.35 trillion, in 2017, according to a new batch of statistics released by the Bureau of Economic Analysis. 
How does that compare with traditional U.S. industries? The digital economy ranked just below professional, scientific, and technical services, which accounted for 7.4 percent of GDP, and just above wholesale trade, with a 6.0 percent share. 
Image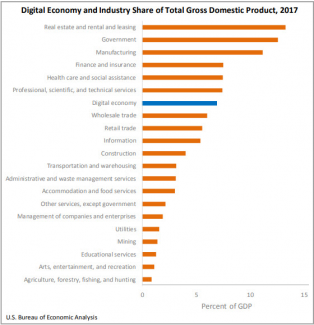 New BEA data also show that:
The digital economy supported 5.1 million jobs in 2017, which accounted for 3.3 percent of total U.S. employment of 152.1 million jobs. The digital economy's share of total employment is about same as the transportation and warehousing industry's share. 
Employees working in the digital economy earned $132,223 in average annual compensation in 2017, compared to $68,506 per worker for the total U.S. economy.
In addition to producing statistics for 2017, BEA has also updated its full series of digital economy estimates, stretching back to 1997. The figures for prior years were updated to roll in more complete data from last year's comprehensive update of BEA's industry statistics.
The digital economy data were first produced last year, as part of a broader project at BEA to better capture the impact of fast-changing technologies on the U.S. economy. That first report exploring the size and growth of the digital economy, a critical step forward in these efforts, was made possible through the support of the Commerce Department's National Telecommunications and Information Administration. 
BEA includes in its definition of the digital economy digital-enabling infrastructure, e-commerce transactions, and digital media. It doesn't include ride-sharing services and other goods and services connected to the "sharing" economy. More information about BEA's ongoing work involving the digital economy project is available on BEA's website.