The Internet has fundamentally reshaped how Americans live, work and communicate. These changes have become more pronounced with speedier wireless Internet services, and increased use of mobile devices. One recent trend is the emergent "sharing economy" where people are buying, selling and trading goods and services with each other. Examples including ride-hailing services, lodging and e-commerce.
In our most recent Internet Use Survey, conducted in 2017, NTIA included questions about participation in the sharing economy for the first time. The results show that a third of Internet users in the U.S. reported selling goods or requesting or offering services from others through online platforms. This compares with the significant majority of Internet users – 69 percent – who reported using the Internet for more traditional e-commerce activities such as online shopping or travel reservations.
Sharing economy participants tend to be younger, have higher incomes and education levels, and live in metropolitan areas, our data reveal.
Internet users were also much more likely to request sharing, or peer-to-peer, services than provide their own services or sell goods. While 26 percent reported requesting services, only 6 percent of Internet users offered their own services and 11 percent reported selling their own goods online.
Exploring demographics
The median age of a sharing economy participant was 42 years old, versus 52 years for an Internet user who did not use these services. In addition, an Internet user with a yearly family income of $100,000 or more was more than twice as likely to offer or request services than someone with an income below $25,000 (see Figure 1).
Figure 1: Participation in Selected Peer-to-Peer Activities Online by Family Income
Percent of Age 15+ Internet Users, 2017
| Income | < $25,000 | $25K - $49K | $50K - $74K | $75K - $99K | > $100K | TOTAL |
| --- | --- | --- | --- | --- | --- | --- |
| P2P Participant | 23 | 27 | 32 | 36 | 47 | 33 |
| Request Services | 16 | 19 | 25 | 28 | 39 | 26 |
| Offer Services | 4 | 5 | 5 | 7 | 8 | 6 |
| Sell Goods | 9 | 10 | 11 | 13 | 14 | 11 |
Internet users with at least a college degree were more likely to both provide and request services (see Figure 2).
Figure 2: Participation in Selected Peer-to-Peer Activities Online by Education
Percent of Age 15+ Internet Users, 2017
Image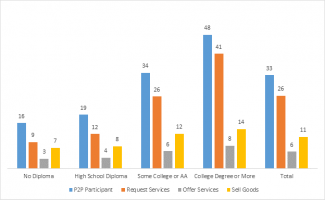 Geography plays an important role in sharing economy participation as well (see Figure 3). While 35 percent of Internet users in metropolitan areas reported using such services, only 19 percent of those in non-metropolitan regions engaged in sharing economy activities. Moreover, there was a 50 percentage point difference between the highly urban territory with the highest level of participation (68 percent of Internet users in the District of Columbia) and the primarily rural state with the lowest rate (18 percent in South Dakota).
Figure 3: Participation in Any Peer-to-Peer Activities Online by State
Percent of Age 15+ Internet Users, 2017
Image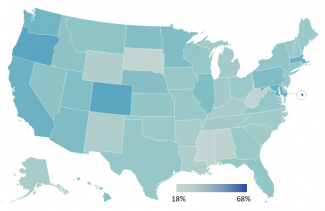 The difference between rural and urban participation was most pronounced in how consumers use peer-to-peer services. People living in rural areas are more like to sell goods online than request services. The data show there is a 64 percent difference between metropolitan and non-metropolitan Internet users when it comes to requesting services, while only a 15 percent difference for selling goods online.
In future surveys, NTIA will continue to analyze the sharing economy's long-term trends and implications for the economy, and research how online experiences vary for different populations.
Want to stay up-to-date on NTIA's Internet use research? Sign up for the Data Central mailing list to be notified about future publications.