Affordability is a core part of the Biden-Harris Administration's Internet for All initiative. We know that access to an Internet connection isn't true access unless everyone can afford that connection.
During Digital Inclusion Week, we are analyzing NTIA's Internet Use Survey data that highlight disparities in Internet adoption. Our previous blog discussed some of the barriers facing the 24 million households that do not use the Internet at home.
Our analysis shows affordability as a driving factor around why some households continue to remain offline, confirming that cost of service is an essential part of increasing Internet adoption.
To dig into this issue more, NTIA added a new question to the 2021 NTIA Internet Use Survey. We asked households not using the Internet from home: "At what monthly price, if any, would your household buy home Internet service?" This new survey question was a result of suggestions received from the public in response to our Request for Comment published in 2020, along with the results of two rounds of cognitive testing conducted by experts at the U.S. Census Bureau.
Among other improvements, this process also resulted in a change to how we ask offline households for their reasons for non-use of the Internet at home, with interviewers now reading all answer choices rather than simply marking down choices that most closely resemble stated reasons.
Answers to the new question showed that the mean price offline households wanted to pay was approximately $10 per month, though it's worth noting that three in four households gave $0 or "none" as their answer.
Interestingly, households citing expense as their main reason for non-use were more willing to pay some amount for home Internet service, with a mean reported price of $16 and 54 percent responding that they would only purchase home Internet service if it were $0.
In contrast, households citing a lack of need or interest in home Internet service were only willing to pay $6 per month on average, with 83 percent of the group giving an answer of $0. Overall, while reduced monthly service costs could attract some number of offline households (including nearly half of those in the "too expensive" group), many more indicated that they could not or would not pay any amount (see Figure 1).
Image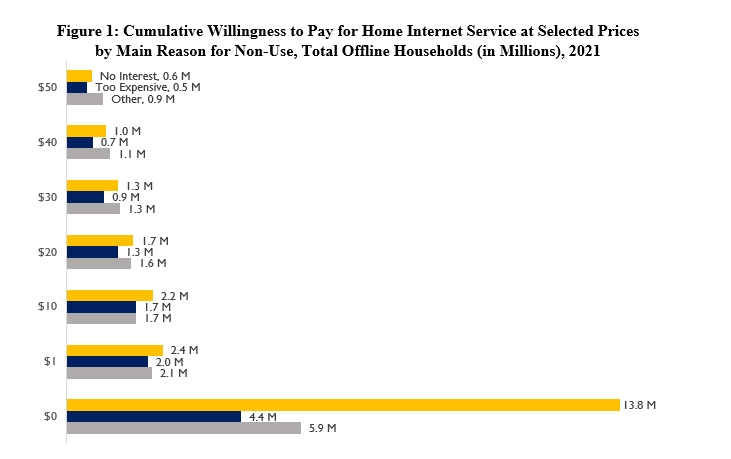 These results further suggest that many within the "too expensive" category would likely purchase home Internet service if they could only afford it, though for many of these households, the only affordable price is $0.
In contrast, households citing a lack of need or interest were much less willing to pay for a home Internet subscription, suggesting that there are other factors influencing non-use, such as a lack of digital skills or issues with accessibility. That said, it is worth noting that offline households in the "no need/interest" group still have significantly lower family incomes than their home Internet-using counterparts, suggesting that cost may be an additional challenge for many even after overcoming other barriers.
Overall, these data make clear that multiple strategies are needed to fully address longstanding disparities in Internet use. That's why programs like the Digital Equity Act and the Affordable Connectivity Program are vital for households and communities.
Read our next blog from our Director of Digital Equity, who explains what we're doing to address the issues of cost, devices and skills needed to access the Internet.
Would you like more of NTIA's analysis delivered to your inbox? Sign up for the Data Central mailing list to receive the latest updates about the NTIA Internet Use Survey.