Late last month, I had the pleasure of joining representatives from the Keystone Initiative for Network Based Education and Research (KINBER) as they celebrated the completion of their statewide network linking many of the state's colleges and universities. What had long been out of reach for Pennsylvania's education community had finally become a reality with the help of NTIA's broadband grant program. 
Unlike most of its neighboring states, Pennsylvania did not have a statewide broadband network to serve the ever-expanding needs of educational institutions, healthcare centers, and other community institutions. That is until KINBER leveraged a $99.6 million grant from NTIA, along with $29 million in matching contributions, to build the Pennsylvania Research and Education Network (PennREN). The recently completed 1,600-mile statewide network currently provides affordable broadband service to customers, mostly colleges and universities, through 63 connection points on the network reaching 50 counties throughout Pennsylvania.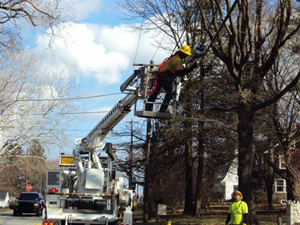 A KINBER construction crew strings fiber between telephone poles in a Pennsylvania community
(click to enlarge)
While PennREN has initially connected colleges and healthcare institutions, KINBER also expects to engage with the state's K-12 network, PAIUnet, to potentially provide shared services over the statewide network and to extend the reach of Pennsylvania school districts beyond their borders, such as giving students access to educational resources offered by the state's many colleges and universities.
With the PennREN infrastructure now in place statewide, this investment has put Pennsylvania on the path toward helping schools get the ultra-fast broadband they need to enable digital learning. As the administration works to reach its goal of ensuring that 99 percent of K-12 students have access to next-generation broadband within five years, the PennREN network is demonstrating the innovative applications that ultrafast broadband can bring to our educational institutions.
Already anchor institutions linked by PennREN are able to innovate and avail themselves of new opportunities. The Community College of Beaver County (CCBC), serving about 2,000 full-time students in Western Pennsylvania, was PennREN's first customer. The college signed on to the network to help reduce its Internet connection costs, obtain greater bandwidth and pursue new opportunities for greater collaboration with the state's other community colleges, according to Walter Lukhaup, CCBC's vice president of information technology.
With the broadband needs of institutions growing rapidly, KINBER provides a catalyst for continued improvements in educational advancement and economic development throughout the Keystone State.