Ten years ago, one of the deadliest hurricanes in history struck the Gulf Coast, decimating coastal cities and communities from Gulfport, Miss., to New Orleans.  At the time, the National Weather Service (NWS), an agency of the U.S. Commerce Department's National Oceanic and Atmospheric Administration (NOAA), accurately forecasted more than two days ahead of time that the central Gulf Coast would be directly impacted by Hurricane Katrina. While this forecast undoubtedly helped limit the loss of life and property, communities across the Gulf Coast still suffered billions of dollars in damage and hundreds died in the storm's aftermath, according to NOAA's National Climatic Data Center.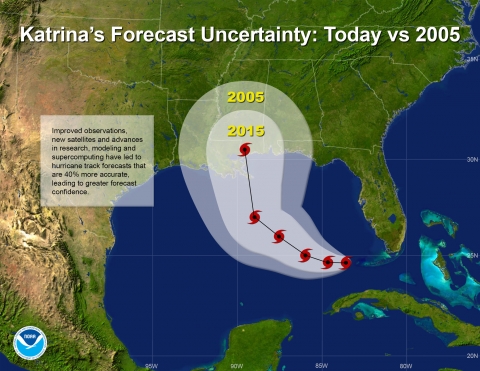 A comparison of the cone of uncertainty given 2005 forecasting capability and 2015 forecasting capability.
A decade later, we are better positioned to deal with these types of disasters. In recent years, NOAA has deployed new satellite technology that has dramatically improved the NWS's forecasting ability, allowing meteorologists to issue more accurate forecasts, with more lead time, for a hurricane or another major weather event. Such information will allow local officials to better target evacuations to those areas most likely to be affected and avoid disruptions to unaffected areas.  NOAA has also made significant investments in its supercomputing capacity to improve its hurricane forecasting capabilities.
In order for these satellites to operate and perform their expected functions, they must have access to radio frequency spectrum to transmit meteorological observations back to earth stations 24 hours a day, seven days a week. This new weather satellite technology allows the weather service to offer more accurate forecasts, enabled by a combination of additional spectrum and much more spectrally efficient technology. NOAA's sister agency within the Commerce Department, the National Telecommunications and Information Administration (NTIA), in its role as manager of federal spectrum use, works with NOAA and other federal agencies to ensure they have the spectrum they need to perform vital missions for Americans. This includes ensuring the NWS has the spectrum tools it needs to predict deadly storms and for NOAA to maintain its observations of the planet's health.
Spectrum is in high demand not just by federal agencies like NOAA, but by technology companies that rely on spectrum to connect consumers' smart phones, tablets and other mobile devices. To help meet this surging demand, President Obama directed NTIA in 2010 to work with the Federal Communications Commission (FCC) to make 500 megahertz of additional spectrum available for wireless broadband by 2020. We are nearly halfway to meeting this goal.
The Administration is committed to supporting continued innovation in the wireless industry and to ensuring that federal agencies have the spectrum resources they need to fulfill their essential missions. These are difficult challenges and to meet them, NTIA works with federal agencies and the wireless industry to  identify, clear and relocate federal users from bands, where possible, for use by the commercial sector and by promoting spectrum sharing between nonfederal and federal users where that solution is the best option. By working with industry, federal agencies and the FCC, NTIA is confident we can continue to find the right balance to ensure the United States maintains its commercial wireless leadership, while enabling federal agencies to do important work on behalf of the American people.