This post is part of our "Spotlight on NTIA" blog series, which is highlighting the work that NTIA employees are doing to advance NTIA's mission of promoting broadband adoption, finding spectrum to meet the growing demand for wireless technologies, and ensuring the Internet remains an engine for innovation and economic growth.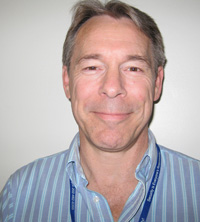 Jerome Watson is a self-described vagabond. The systems administrator in the Office of Policy Coordination and Management has managed to indulge his love of travel while maintaining a 28-year career with the federal government.
Watson's interest in seeing the world began at the age of 12 when he and his family moved to Nuremberg, Germany for his Dad's job as a civilian employee with the Army logistics and supply service. He says he fell in love with Europe. "It feels like home to me."
Before joining NTIA in August 2012, Watson worked for the Defense Logistics Agency for two and half years in Kaiserslautern, Germany. He returned so his daughter could finish high school in the United States and he could be closer to his parents.
He had a previous stint in Germany when he worked for the Defense Information Systems Agency in Stuttgart and also lived in Geneva while working for the State Department.
Despite his short tenure at NTIA, Watson found himself in a critical role during October's government shutdown when he was chosen as the only employee from his department to work and help maintain NTIA's computer and other communications systems. "It was very lonely," he said. Still, he says he was able to use the time to help catch up on some work.
Watson says he enjoys working with technology, adding that it is fascinating exploring how we can make technology work for us.
In addition to his international jobs, Watson also has held several stateside jobs including positions at the Immigration and Customs Enforcement agency in Dallas and with the Federal Aviation Administration in Seattle and Anchorage, Alaska.
Despite living in so many places, Watson said he considers Muscatine, Iowa his hometown and still has family there. Watson graduated from Hamilton Technical College in Davenport, Iowa with a degree in electronic engineering technology.
When he is not traveling or working, Watson said he enjoys riding his motorcycle, skiing and snowboarding.
(click on image for a larger version)