This post is part of our "Spotlight on NTIA" blog series, which is highlighting the work that NTIA employees are doing to advance NTIA's mission of promoting broadband adoption, finding spectrum to meet the growing demand for wireless technologies, and ensuring the Internet remains an engine for innovation and economic growth.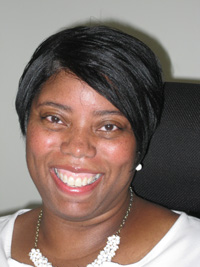 For many students, an internship is a way to get a jumpstart on their career while still in college. For Sheila Williams that opportunity came much earlier than most.
A Washington, D.C., native, Williams got her first job at the Commerce Department as a summer intern while she was still a student at Cardozo Senior High School.
It wasn't an easy gig for a 16-year-old. Williams left her house each day at 6 a.m. and had to take three buses to arrive for her internship with the National Oceanic and Atmospheric Administration (NOAA) Office of Public Affairs in Rockville, Md. Her mother, who worked at the State Department, pushed Williams to get an early start on her career and to obtain marketable skills she could fall back on if needed. "My mother was the ring leader," Williams says with a laugh.
Williams, an administrative specialist, is primarily assigned to helping Assistant Secretary Larry Strickling. This includes arranging his travel and helping to manage his busy schedule.
Williams has spent her entire three-decade career with the Commerce Department. The antithesis of the stereotypical jaded government bureaucrat, she is quick to offer a warm smile and friendly greeting to anyone who enters the front office.
Despite the long commute while a summer intern, Williams maintained the connection after her internship ended at NOAA by filling in whenever she had a break from school. The hard work paid off. When she graduated from high school, she landed a full-time job with NOAA. Williams says her experience at NOAA gave her "on-the-job training that set me on course to the government career that I now have."
She later went on to work in other Commerce offices, including the U.S. Travel and Tourism Administration. After it was eliminated in 1996, Williams lost her job but managed to land a spot at NTIA under then-Assistant Secretary for Communications and Information Larry Irving and has been with the agency ever since.
Williams said what she likes most about her job is being in a position to help people. After years of making travel arrangements for others, Williams says she is now taking time to do some traveling herself, focusing on some personal trips to domestic destinations such as Las Vegas and New Orleans for now.