With the Internet on our phones, our tablets, at the office and in our homes, most Americans have come to expect that our government, too, will be online. Still, whether it's due to a lack of resources or skepticism over the need, some local governments have yet to fully embrace the potential of e-Government.
As part of our efforts to expand broadband access and adoption, NTIA's State Broadband Initiative (SBI) has been working with states to help them provide the tools for citizens to participate in government online. These efforts are providing real benefits for consumers in many states, including allowing residents to communicate with government officials, make online tax or fine payments, and access numerous government forms.
With NTIA's state broadband grants, states have taken a variety of approaches to helping localities better utilize the Internet. In Arkansas, Connect Arkansas, a nonprofit corporation focused on increasing broadband adoption and access, has used an SBI grant to work with 17 counties to help them launch engaging, transactional, and informational websites or to enhance existing sites. Six Arkansas counties have launched or are expected to launch new e-Government websites by the end of the year. 
Often, the savings created by a new or expanded website offsets the costs of creating and maintaining these sites by allowing county and city employees to spend less time taking in-person payments or answering questions over the phone. Since the launch of the property tax feature on its new e-government website in March 2012, Sharp County, Ark., has collected $360,000 in property taxes online.  This new feature has saved county staff as much as a full week in time as well as postage and stationery fees, according to County Collector Charlotte Ratliff.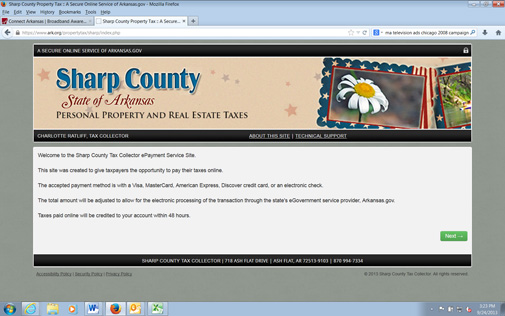 Sharp County Ark Property Tax Webpage (click to enlarge)
West Virginia also has utilized SBI grants to enhance the online presence of government offices throughout the state. With NTIA's help, West Virginia's Technical Assistance Grant Program (TAGP) has awarded technical assistance grants across all of the state's 11 planning and development regions as well as in multiple sectors including agriculture, economic development, education, government services, health care, and public safety. With these grants, counties have been able to provide a variety of online services including tax payment systems and access to property records, deeds and other documents and forms.
With its two grants, Fayette County, W.Va., funded the development of a county website and an application that allows county residents to apply for building and zoning permits online. The county's second grant funded a custom web application that allows citizens to submit their tax payments online and allows for the county to process them electronically. These two applications have saved the county money and residents' time and hassle by not having to mail and fill out paper forms and checks.
Transitioning to e-Government, with the help of NTIA's state broadband grants, has revolutionized the ability of local governments across the nation to improve the quality and delivery of services while boosting government efficiency and transparency.