For our country to take full advantage of the promises of innovation, America's path forward must ensure our people and ideas can move at the rapid pace of the 21st century. At a time when technological innovation and economic growth go hand-in-hand, our digital infrastructure is central to our competitiveness.
That is why the U.S. Department of Commerce, with agencies across the Administration, is working to foster continued investment in broadband networks. Over the past six years, we have made substantial progress in connecting communities and closing the digital divide through the National Telecommunications and Information Administration's (NTIA) $4 billion broadband grant program. Projects funded through this program have built or upgraded 114,697 miles of network infrastructure, connected 25,684 schools, libraries and other anchor institutions, and produced 671,585 new household subscriptions. Still, we recognize that there is more work to be done to ensure that no one is left behind in the digital revolution.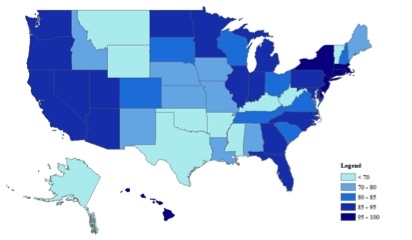 Percentage of Households with Access to Download Speeds of 25 Megabits per Second or Greater, 2013
The White House today released a report from the Broadband Opportunity Council, a group established by the President that Secretary Pritzker co-chaired.  The report describes concrete steps that 25 federal agencies will take over the next 18 months to eliminate barriers and promote broadband investment and adoption.
At the Commerce Department, we will play an ongoing role in ensuring that the Council's important work is carried out. Assistant Secretary of Commerce and NTIA Administrator Lawrence Strickling will continue to co-chair the Council on Secretary Pritzker's behalf. NTIA, under its BroadbandUSA  initiative, will continue to work closely with communities seeking to expand their broadband capacity through technical assistance, publications and regional workshops such as the Digital New England Summit on September 28. As part of the Council's recommendations, BroadbandUSA will create a main access portal to link federal broadband resources, policies, and grant guidance.  It is also collaborating with members of the Broadband Opportunity Council on how best to move forward and implement key recommendations to improve broadband access.
With these actions and more to come, we can ensure that America's path forward is built on a foundation designed to accommodate the pace of change in today's global economy.