Chief of Staff, Office of Spectrum Management, NTIA
Image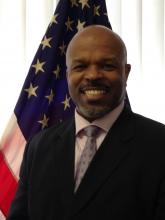 Bruce M. Washington is Chief of Staff in NTIA's Office of Spectrum Management where he performs senior telecommunications policy coordination and administrative management assignments for the Associate Administrator. Mr. Washington provides expert advice and consultation on spectrum policy management issues and other spectrum-related matters. He also serves as the Designated Federal Official for the Commerce Spectrum Management Advisory Committee, a panel of spectrum experts that advises NTIA on a broad range of spectrum policy issues.
Prior to joining NTIA in 2011, Mr. Washington spent 12 years at the Department of Energy as an Information Technology specialist. In that role, he helped manage and provide technical expertise for the department's spectrum and wireless programs. He also served as the Energy Department representative to the Interdepartment Radio Advisory Committee (IRAC), an advisory committee made up of spectrum managers from 19 federal agencies that assists NTIA on policies and procedures related to the federal government's allocation, management, and use of spectrum.
Mr. Washington held other posts at the Energy Department including management analyst in the Office of the Chief Information Officer and Supervisory Telecommunications Specialist at the department's Forrestal Communications Center, where he directed and managed the operation of telecommunications hardware and software systems that equipped the facility.
Mr. Washington also served 10 years in the U. S. Army as a Signal (telecommunications) Officer and 15 years in the U.S. Army Reserve Signal Corps, serving as a battalion commander in the 80th Training Support Command (TASS) and as the assistant operations and plans officer for the 311th Signal Command (Theater), U. S. Army Pacific, which provided command and control for telecommunication operations throughout the Pacific region.
Mr. Washington graduated from the University of Maryland Eastern Shore with a Bachelor's Degree in construction management and technology. He lives in Clinton, Maryland with his two daughters.