FOR IMMEDIATE RELEASE
May 18, 2022
Image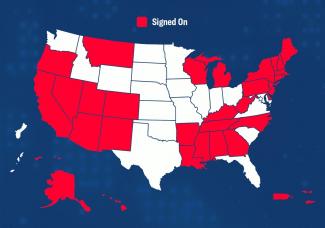 WASHINGTON– Today, the U.S. Department of Commerce's National Telecommunications and Information Administration (NTIA) announced that 34 states and territories have "Signed On" to participate in the Biden-Harris Administration's Internet for All initiative, which will invest $45 billion to provide affordable, reliable high-speed internet for everyone in America by the end of the decade.  
Since NTIA announced the initiative on Friday, the following states and territories have sent in their letter of intent or indicated they will participate: Alabama, Alaska, Arizona, Arkansas, American Samoa, California, Colorado, Connecticut, Delaware, Georgia, Hawaii, Kentucky, Louisiana, Maine, Massachusetts, Michigan, Mississippi, Montana, Nevada, New Hampshire, New Jersey, New Mexico, New York, North Carolina, Oregon, Pennsylvania, Puerto Rico, Rhode Island, Tennessee, United States Virgin Islands, Utah, Vermont, West Virginia and Wisconsin. 
"It is absolutely critical that states join our efforts to deliver on access to reliable, affordable high-speed internet," said Secretary Raimondo. "As more and more states come on board, we are happy to deliver on the promise that Americans across the country will no longer be held back by a lack of high-speed internet access. Joining together, we can ensure every American will have access to technologies that allow them to attend class, start a small business, visit with their doctor, and participate in the modern economy."  
"Generations before us brought electricity to rural America and built the interstate highways," said Alan Davidson, Assistant Secretary of Commerce for Communications and Information. "Our generation's task is to connect all Americans online. Thanks to the Bipartisan Infrastructure Law, states are now 'signing on' to this initiative to promote Internet access and adoption so that everyone in America has a chance to thrive in the modern economy."  
The Internet for All programs will build internet infrastructure, teach digital skills, and provide necessary technology to ensure that everyone in America – including communities of color, rural communities, and older Americans – have the access and skills they need to fully participate in today's society.  
To participate in the $42.45 billion Broadband Equity, Access, and Deployment (BEAD) Program, states and other eligible entities must submit a letter of intent and a planning funds budget, which will unlock up to $5 million in planning funds and allow states to begin creating their five-year action plan. Each state will have direct support from dedicated NTIA staff through every step of the process. Each participating state is guaranteed a minimum $100 million allocation, with additional funding determinations made based on the forthcoming coverage maps from the Federal Communications Commission.   
For more information, please read the Internet for All Fact Sheet.