Report from the Field: A Broadband Bridge to Puerto Rico
November 29, 2011 by Deputy Assistant Secretary for Communications and Information Anna M. Gomez
According to NTIA's National Broadband Map, less than half of Puerto Ricans have access to basic broadband service, which consumers increasingly need to apply for and get a job, access valuable education and healthcare information, and participate in today's digital economy.

To help fill this gap, NTIA awarded Puerto Rico two Recovery Act grants to expand and enhance broadband infrastructure.  While I was in San Juan earlier this month at the Puerto Rico Chamber of Commerce's Annual Telecom Conference, I had the opportunity to visit one of these projects.

I joined members of Critical Hub staff and Puerto Rico Chief Information Officer Juan Eugenio Rodriguez on a tour of Critical Hub's data center facilities in San Juan, part of its Puerto Rico Bridge Initiative (PRBI) BTOP project.

Critical Hub Networks, which received a $25.6 million grant, is expanding high-speed Internet access in underserved areas of Puerto Rico by establishing a broadband "bridge" to the United States mainland and deploying a high-capacity middle-mile network on the islands. Additionally, Critical Hub will also offer a 25 percent broadband discount to K-12 schools to help improve education and distance learning.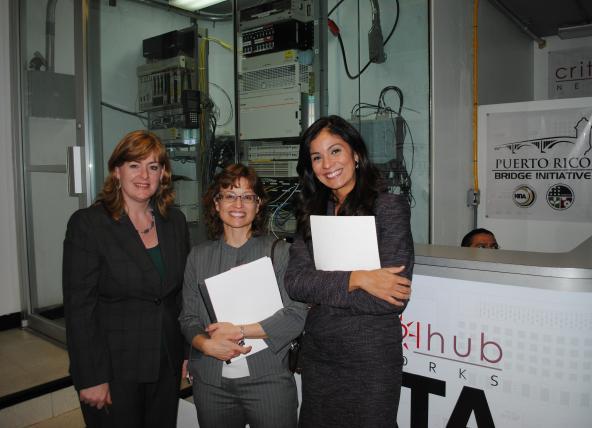 Critical Hub Networks Vice President Karen Larson, Deputy Asst. Secretary Anna Gómez, and Puerto Rico Bridge Initiative Community Outreach Coordinator Leslie Ortíz at the Puerto Rico Bridge Initiative's  facilities in San Juan.
Critical Hub is enabling other local Internet service providers to utilize its open network in order to extend broadband to new customers and better serve existing customers.  In fact, NTIA requires all of our broadband infrastructure grantees to make the networks built with Recovery Act money available to other providers. Critical Hub has entered into peering and interconnection agreements with several providers. With the ever-increasing need for broadband capacity, especially for schools and other community anchor institutions, these interconnection agreements can be instrumental to ensuring citizens share fully in the benefits of broadband – and we look forward to seeing continued collaboration and progress.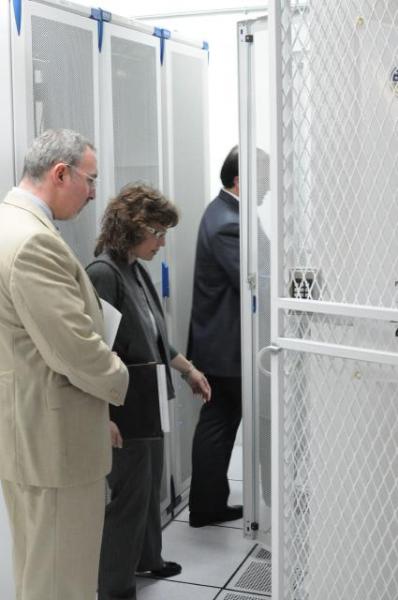 Carlo Marazzi, President of Critical Hub Networks, enters PRBI's cage facilities in the Data Center while Juan Eugenio Rodríguez, CIO of the Government of Puerto Rico, and Anna Gomez look on. Critical Hub is also currently expanding its facilities in order to accommodate the increase in Internet traffic and to accommodate additional local Internet providers that plan to utilize the network.
Meanwhile the other infrastructure grantee in Puerto Rico, INTECO, which received a  $12.9 million grant, is working to deploy broadband in the Central East Region of Puerto Rico and extend free Wi-Fi hotspots to low-income adults and youth. Together, these two infrastructure projects expect to connect nearly 2,000 community anchor institutions, including more than 1,500 K-12 schools, to high-speed Internet.  I was able to meet with INTECO leadership during the Chamber of Commerce Conference as well.

I want to thank the Puerto Rico Chamber of Commerce for inviting me to speak at the Conference, and for giving me the opportunity to meet with our grantees.  The Chamber of Commerce, our grantees, and the Puerto Rico Governor's office clearly share our enthusiasm about bringing the benefits of broadband to Puerto Rico. These Recovery Act efforts will support stronger communities and help more Puerto Ricans succeed in the 21st century economy.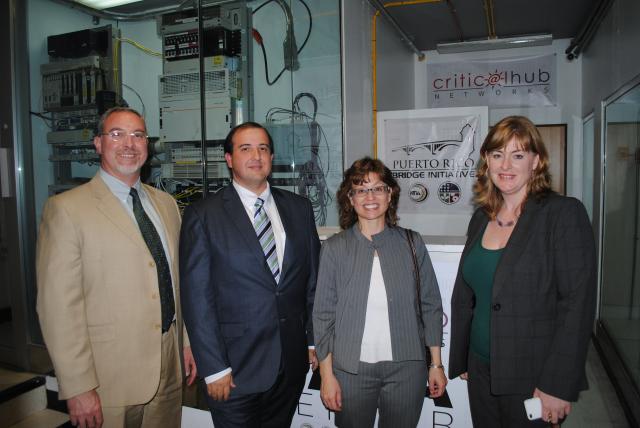 Juan Eugenio Rodríguez, CIO of the Government of Puerto Rico, Carlo Marazzi, President of Critical Hub Networks, Anna Gomez, and Karen Larson, Vice President of Critical Hub Networks at the Data Center Facilities for the PRBI project.
(Note: per the data on our National Broadband Map, less than half of Puerto Ricans have access to broadband service at advertised speeds of 3 mbps download/768 kbps upload, and only a quarter have access to service at 6 mbps advertised download speeds. Through our State Broadband Initiative, the Office of the Governor received a grant to lead data collection and planning efforts in Puerto Rico. You can find more information at connectpr.org.)