Internet access means access to education, healthcare, jobs, and entertainment. It's essential to full participation in our modern economy. Still, NTIA data show that about one in five U.S. households are not connected to the Internet at home.
President Biden's Internet for All initiative is working to connect everyone in America to affordable, reliable high-speed Internet. With NTIA spearheading the initiative, we know it's important to make data-driven solutions and assess who is not online and what barriers are keeping them unconnected.
This week is Digital Inclusion Week, and we are analyzing NTIA's Internet Use Survey data on the disparities around Internet adoption, including why households are offline, the cost households are willing to pay to get connected, and what we're doing to address the digital divide.
While a majority – 58% – of the 24 million offline households express no interest or need to be online, there is also a large proportion who say they can't afford home Internet service (18%). Regardless of their stated reasons for non-use, offline households have significantly lower incomes than their online counterparts. This suggests that even after overcoming other barriers, cost may be an additional challenge for many offline households.
Understanding Barriers to Home Internet Use
In the last 20 years, the main reason that offline households cited for not using the Internet from home is that they did not need it or had no interest in going online. During that time, the total number of offline households has declined, leaving fewer households to be asked about their reasons for remaining offline.
The next most common reasons given were concerns about cost and affordability.
About one-fifth of offline households cited concern for the expense of getting online as their main reason for non-use. The proportion of households citing expense was little changed from 2019, though it consistently declined starting in 2012. While expense was a less commonly cited reason for non-use, it still represents over 4 million households that said they were not online primarily due to cost concerns.
Many households citing reasons other than expense may nevertheless still struggle with the cost of home Internet service and suitable devices in addition to challenges such as a lack of digital skills, barriers to accessibility, and other issues.
Image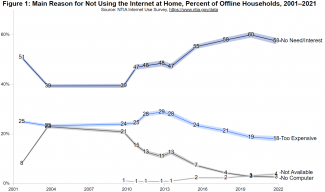 Interestingly, a small but growing proportion of offline households—4 percent in 2021—cited a lack of Internet availability in the area, overtaking those that said they lacked a working computer (a barrier that a decade ago had been a significant reason for non-use but has declined substantially over time, seemingly with the rise of smartphones). One possible explanation for this shift could be the changing demographics of offline households as the online population continues to increase. Another possibility is that bandwidth needs and expectations for what might qualify as acceptable high-speed Internet service have changed over time.
The proportion of offline households citing a range of other, less common reasons for no Internet use at home has also been on the rise in recent years, reaching 18 percent in 2021. These other reasons given include privacy and security concerns, the possibility of use outside of the home, and moving, among other responses.
Who is not connected?
Consistent with our previous findings, offline households citing either lack of interest or expense as the main reasons for non-use were more likely than their online peers to make less than $25,000 per year, and their reference persons were more likely to be people of color, and to have lower educational attainment.
Image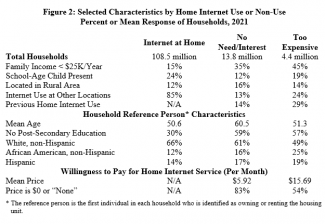 Households that cited "too expensive" as their barrier to getting online were more likely to have school-age children at home and identify as racial and ethnic minorities than those who weren't interested in getting online.
These results suggest that multiple strategies are necessary to stimulate greater adoption of the Internet, including subsidy programs such as the Affordable Connectivity Program (ACP), the Digital Equity Act, and other initiatives to increase digital skills, equip people with suitable devices, and ensure important online services are accessible to all.
In our next blog, we look at the cost households are willing to pay to get online.
Would you like more of NTIA's analysis delivered to your inbox? Sign up for the Data Central mailing list to receive the latest updates about the NTIA Internet Use Survey.