Wireless connectivity empowers nearly every aspect of modern life, and reliable access to spectrum resources is essential. So, it's perhaps no surprise that NTIA has received an immense amount of feedback on the development of a National Spectrum Strategy since announcing the start of this effort on March 15.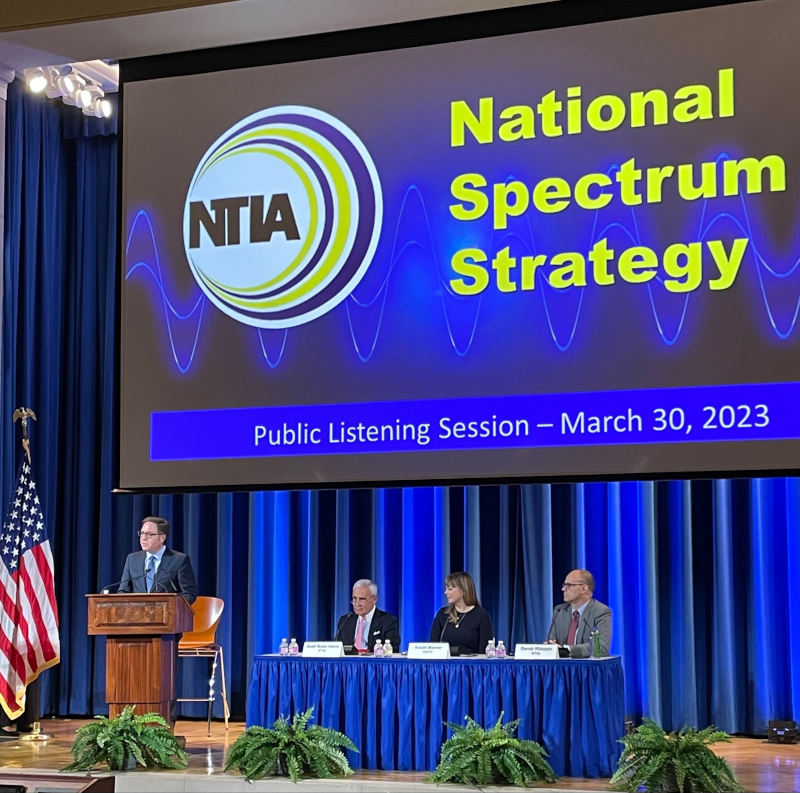 Most recently, the period for providing responses to NTIA's Request for Comments (RFC) closed April 17.  NTIA received 131 written comments from stakeholders who provided in-depth information in response to questions about the nation's spectrum needs, how best to engage in long-term spectrum planning, and technology innovations that can help better manage the nation's spectrum resources.  The comments are now accessible both on NTIA's website and on Regulations.gov.  
Meanwhile, the 34 speakers at NTIA's two public listening sessions on the National Spectrum Strategy also reflected a wide range of perspectives and interests. Webcast as live, in-person events on March 30 and April 11, the listening sessions provided an open forum for interested stakeholders to tell NTIA and the White House what they believe should be part of the long-term spectrum strategy for the United States.  
The first listening session, held in Washington, D.C., reflected the spectrum needs of the extremely diverse spectrum ecosystem.  We received presentations from representatives of the commercial wireless industry, astronomers, earth science researchers, utilities, the automotive and aviation industries, the national defense sector, consumer advocates, and more. 
The second session, held on the campus of the University of Notre Dame in South Bend, Indiana, brought to the forefront efforts to rally and rationalize spectrum research and development. SpectrumX, a National Science Foundation Center for Spectrum Innovation, hosted the session, and several scholars presented their work and proposals on spectrum sharing, workforce development, and policy coordination. Among the other presentations from public and private sector stakeholders, an official of the City of South Bend, Indiana described the benefits of spectrum access for communities as the city works to provide full and equitable connectivity for its residents. 
Both listening sessions were recorded and are available for viewing on NTIA's website at https://ntia.gov/issues/national-spectrum-strategy/listening-session.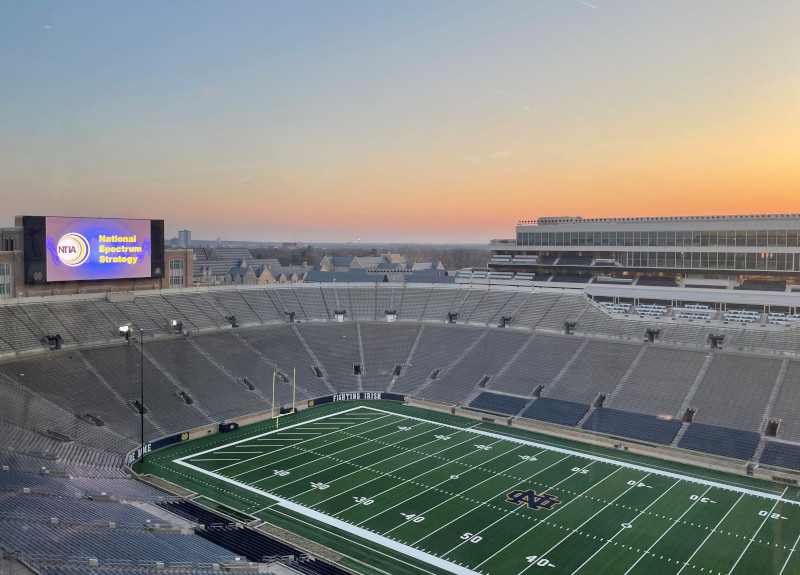 In addition to the two public listening sessions, NTIA also held a listening session with federal agencies that use spectrum as part of their core missions. These agencies employ spectrum-dependent systems that are vital for national security, public safety, scientific research, weather forecasting, transportation, and more. They too are key stakeholders in the spectrum ecosystem and also play an important role in advancing U.S. global technology leadership. 
We are also hosting two government-to-government Tribal Consultations to ensure that we receive input from Tribal nations on the spectrum strategy. About 100 Tribal Leaders registered for the first consultation and about 60 have registered for the second. 
But all of these sessions, and the formal responses to our RFC, are not the only avenues for expressing views and recommendations on the National Spectrum Strategy. Any interested party can request a one-on-one, virtual meeting with NTIA to present their views by emailing NSSmeetings@ntia.gov.  For the sake of transparency, parties that meet with NTIA must also provide us with a written summary of what was discussed at the meeting (via the same email address) so that we can publish it on our website. We will soon make available on our website additional information about this process, including how to access the summaries of these meetings. In addition to requesting a meeting, parties can use this same e-mail address to submit any supplemental written materials they wish to provide. While the formal comment period has closed for the RFC, we will nevertheless endeavor to consider all such submissions before we complete our work later this year. 
The NTIA team has already begun the hard work of reviewing the feedback received thus far and will soon begin drafting the national strategy. We hope this document will chart a course forward for managing our nation's airwaves in the public interest. The inputs received to date have been both interesting and diverse, highlighting the breadth of industries and communities that rely on spectrum and the importance of this national policy initiative.