President Obama's ConnectED proposal aims to bring next-generation broadband, with speeds of at least 100 megabits per second and high-speed wireless, to K-12 schools across the nation.
Nowhere is the need greater – or the challenge tougher – than in rural America. High-speed Internet connections can give students living in remote communities access to classes, teachers and instructional materials that those in urban regions may take for granted. But with so many rural areas still lacking advanced telecommunications infrastructure, schools in these places often remain cut off from the promise of broadband.
In Michigan, a non-profit broadband provider called Merit Network is tackling this challenge by connecting K-12 districts in some of the most far-flung reaches of the state.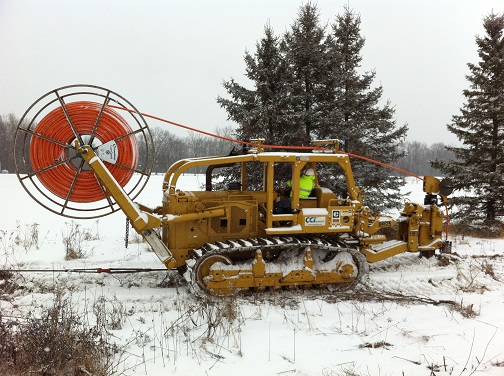 Installing fiber.
Merit, which owns and operates a statewide research and education network, dates back to the early academic and government networks that evolved into today's Internet. It was established in 1966 by the University of Michigan, Michigan State University and Wayne State University.
Today, Merit is using more than $100 million in federal funding from NTIA's Broadband Technology Opportunities Program to install more than 2,000 miles of fiber to expand its network across the rural stretches of the state's northern Lower Peninsula and the remote, economically distressed Upper Peninsula. Before the NTIA investment, "there wasn't a whole lot of infrastructure" in the region, says Jason Russell, Merit's member relations director.
The federal money is enabling Merit to hook up 16 new K-12 institutions – including many "intermediate school districts," which operate as aggregation points for anywhere from five to 15 individual districts – and upgrade another six from leased circuits to fiber-optic connections. It is also paying for direct links to 24 individual schools or districts. Altogether, Merit will have 79 K-12 institutions on its network, and 65 will have fiber connections and speeds of up to a gigabit.
One of those is the Eastern Upper Peninsula Intermediate School District (EUPISD), which serves 7,400 students in 29 schools and 19 K-12 districts spread across 4,000 square miles, including three islands. For EUPISD, the federal investment in Merit is lowering connectivity costs while increasing bandwidth supply.
Three EUPISD school districts - St. Ignace, Engadine and Morgan Township – are getting direct connections to the Merit network. Yet all 19 districts are benefitting since they are all linked to the same wide area network – allowing them to share many back-end technology functions. Network administrators can maintain student information databases, provide Web hosting and filtering services, and even administer online tests across multiple schools from one centralized location.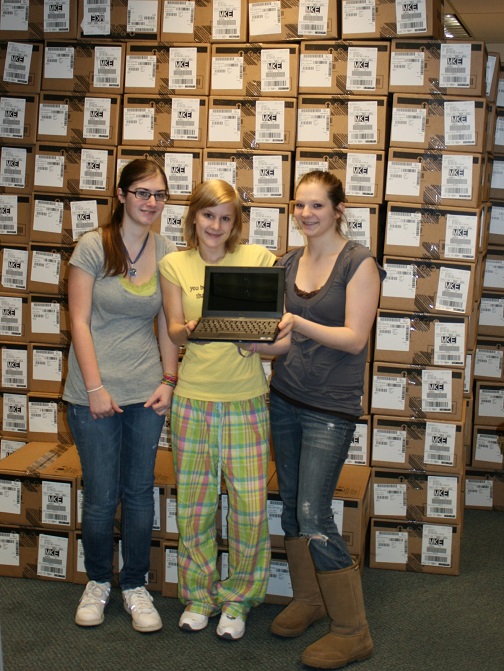 Sault Ste. Marie High School students Deveney Zabelka, Mercedes Komarnizki and Julia Hook check out a new netbook in front of piles of netbook boxes.
Equally important, the added capacity significantly reduces the need to manage or ration bandwidth use across classrooms and campuses. And this lets schools leverage technology – including one-to-one computing – to improve education.
Indeed, EUPISD has used a separate NTIA investment to assign netbook computers to every seventh through 12th grader across 23 schools.
As a result, teachers are employing Web-based tools to create online classroom portals and manage homework assignments, quizzes and grades electronically. And they are incorporating all sorts of Internet content – from multimedia programming to virtual field trips – into the curriculum.
Science teachers in Pickford, for instance, are integrating computer simulations of fruit flies breeding over many generations into genetics lessons. Music instructors in St. Ignace are using online music composition programs to teach middle and high school students how to write their own scores. And a high school industrial arts teacher in Detour is training students to design virtual playgrounds and toys using Google's SketchUp 3D modeling program.
Barbara Light, who runs the laptop program, says technology "bridges a gap" for the region's rural schools.
Statewide, Michigan is connecting 46 of its 56 intermediate school districts to the Merit network.
By laying the groundwork for a statewide K-12 broadband backbone, Merit lowers the cost of interconnecting intermediate schools districts - and their wide area networks – to each other. And because Merit does not charge transport fees for traffic that stays on its network, this enables sharing of back-end technology services across multiple intermediate school districts.
EUPISD District, for one, is already sharing technology services with the Cheboygan-Otsego-Presque Isle Educational Service District, which serves approximately 9,000 students in 10 districts in the northern end of Michigan's Lower Peninsula. This is possible because Merit used federal funding to double the number of fiber lines crossing the Mackinac Bridge, which connects Michigan's Upper and Lower Peninsulas.
Likewise, the regional media center that serves two intermediate school districts in the western end of the Upper Peninsula is using the Merit network to provide Web filtering, firewalls and other technology services to two additional intermediate school districts in neighboring counties.
The interconnections also let districts aggregate demand – and push down costs - for Merit's connectivity. Five Upper Peninsula intermediate school districts linked over the system are already in a bandwidth purchasing consortium. And several more, including the Cheboygan-Otsego-Presque Isle Educational Service District, plan to join next year.
With the Merit network in place, Bruce Umpstead, state education technology director in the Office of Education Improvement & Innovation for the Michigan Department of Education, expects to see similar collaboration elsewhere across the state. The federal investment, he says, is a "game changer" for Michigan schools. We hope it will also serve as a model for other schools that will benefit from the Administration's investments in broadband nationwide.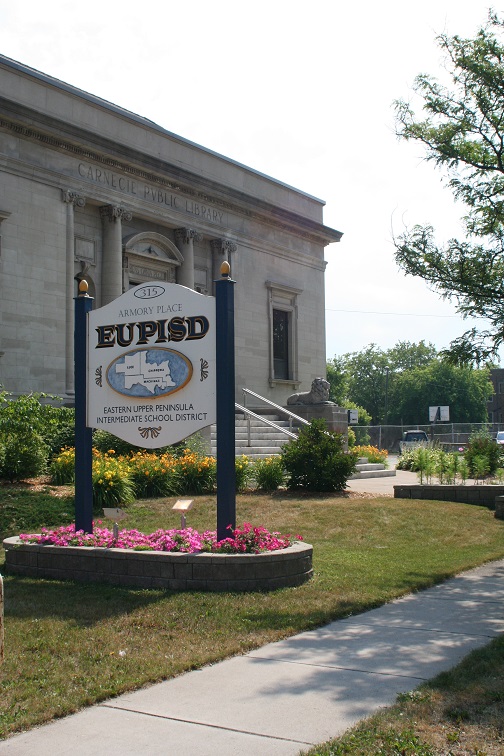 The federal investment in Merit is lowering connectivity costs while increasing bandwidth supply for the Eastern Upper Peninsula Intermediate School District, which serves 7,400 students in 29 schools and 19 K-12 districts spread across 4,000 square miles, including three islands.