The National Telecommunications and Information Administration's BroadbandUSA team, together with Next Century Cities, a nonprofit initiative of over 100 mayors and community officials dedicated to ensuring the availability of next-generation broadband Internet for all Americans convened a productive broadband workshop yesterday in Portland, Maine to explore ways to close the digital divide and expand broadband capacity throughout the New England region. The Digital New England Summit brought together about 250 broadband experts, community leaders and state and federal officials, including U.S. Senator Angus King, for this day-long gathering.
The event was the third in a series of regional workshops that NTIA is hosting across the country as part of its BroadbandUSA program, which is helping communities expand their local broadband capacity and use. The new initiative builds on lessons learned and best practices from NTIA's successful broadband grant programs, which officially come to a close tomorrow.  Funded from money from the 2009 Recovery Act, NTIA invested more than $4 billion in roughly 230 projects across the country that have built critical network infrastructure, opened or upgraded public computer centers and established broadband adoption and digital inclusion programs. Our State Broadband Initiative Program invested another $300 million to help states collect broadband data for the National Broadband Map and expand their statewide broadband capacity.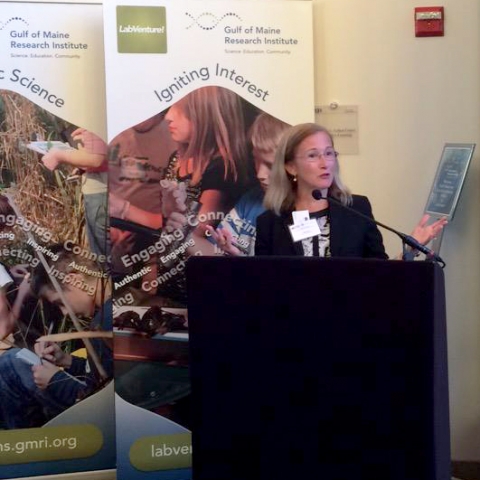 Next Century Cities Exec Director Deb Socia welcomes attendees to the Digital New England regional summit in Portland, Maine
Our broadband grantees deployed more than 114,000 miles of new or upgraded network miles, connected nearly 26,000 community anchor institutions such as schools and hospitals and installed or upgraded more than 47,000 personal computers in public access centers.  In addition, our grantees enrolled hundreds of thousands of people as subscribers to broadband services.
As we move beyond these projects, we recognize that more work needs to be done to ensure that no one is left behind in this digital revolution, and we can expect the need for speed to continue to increase.  When we started the Recovery Act grants program in 2009, the FCC still defined broadband at a speed less than 1 Mbps.  Today the FCC recommends download speeds of 25 Mbps. At that rate, nearly 51 million Americans still do not have access to a wired broadband connection. 
Our message to attendees at the Digital New England workshop was simple – we are here to help.  We've learned a lot over the past six years overseeing this broad portfolio of broadband infrastructure and adoption grants.  We've learned that there's no one-size-fits-all approach that works, and every community has unique needs and challenges.  Through our BroadbandUSA initiative, we are now leveraging that knowledge and expertise to help communities in their broadband expansion efforts. We can help sift through the labyrinth of government rules and grant programs; help your community find the best way to design and deliver an adoption program; or even plan for and attract broadband investment.  Our technical assistance ranges from workshops and webinars to more personalized one-on-one community assistance.
Just yesterday, we released the Broadband Funding Guide, which provides a roadmap on how communities can access federal funding to support broadband planning, public access, digital literacy, adoption, and deployment. So let us know what sort of help your community needs. 
We appreciate the participation of all the panelists and participants at yesterday's Digital New England Summit, and look forward to continuing the discussion across the country as local communities tackle the challenge of ensuring that all residents have access to advanced telecommunications networks and the skills and resources to take advantage of them.