Image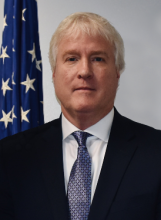 Doug Kinkoph is Associate Administrator of the National Telecommunications and Information Administration's (NTIA) Office of Internet Connectivity and Growth, which includes responsibility for the Office of Minority Broadband Initiatives. Kinkoph joined the Department of Commerce in 2010 and has served in a number of roles, including Acting Assistant Secretary, working on issues including spectrum management, broadband, and public safety communications.
In his current role, Kinkoph is responsible for all of NTIA's broadband programs, including the development, implementation and management of the Infrastructure Investment and Jobs Act (IIJA) $48B broadband programs including the Broadband Equity, Access, and Deployment (BEAD) Program, Middle Mile Broadband Infrastructure Program, and Digital Equity Programs. Kinkoph also oversees three active broadband grant programs: the Broadband Infrastructure Program, the Tribal Broadband Connectivity Program and the Connecting Minority Communities Pilot Program. Kinkoph also has responsibility for the agency's BroadbandUSA program, which was created under his leadership in 2015. He also oversaw a $4 billion broadband grant program that funded the deployment of broadband infrastructure, public computer centers, sustainable adoption of broadband service, and statewide broadband planning.
Before joining the Department of Commerce, Kinkoph held multiple executive roles in the communications industry as well as in the public and private sectors as a telecommunications policy expert. He served as Vice President of Operations at Soundpath Conferencing where he was responsible for all sales, marketing, and customer service operations. His private sector experience also includes serving in senior regulatory and policy roles at XO Communications, Nextlink, and LCI.
Kinkoph earned his M.A. in Administration from Central Michigan University and his B.S. in Telecommunication Management from Ohio University.